Arnica Coronavirus (COVID-19) status (Last updated July 16 2021)
We would like to reassure you that we're doing everything we can to keep our patients safe. You can find out more about the extra safety measures we've introduced and what to expect next time you visit us from our COVID-19 safety charter and short video.
We are continuing to experience increased patient demand and reduced capacity due to following strict safety guidelines, so please bear with us if we are unable to book you in as quickly as normal.
To ensure the safety of our patients and staff we have extra safety measures in place that follow strict Bupa, BDA (British Dental Association) and NHS guidelines including:
1. Reducing the number of patients seen per day
2. Extending appointment time to include a safety check, appointment preparation and a slower, measured clinical approach during the appointment
3. Closing surgeries for an hour and half after every AGP (Aerosol Generating Procedure) appointment. Remaining 'fallow' (empty) for an hour and half allows the air particles to settle, all surfaces are then deep cleaned prior to the next appointment.
4. Providing Personal Protective Equipment (also known as PPE). PPE has always been worn by our clinical teams in the practice, but the new safety measures mean that each patient is issued with a face mask and all our clinicians are wearing enhanced PPE to minimise the risk of cross contamination during treatment.
Covid-19 Safety Tariff
There is a significant cost implication of the above, so we have decided to apply a Covid-19 Safety Tariff that goes some way to recouping the additional costs of each enhanced appointment. These are:
Non-Aerosol Procedures £5
Aerosol-Generating Procedures (AGPs) £15
If you would like to discuss these charges further then please do not hesitate to contact the practice on 01242 655554 who would be more than happy to discuss our Covid-19 Safety Tariff with you in more detail.
Extra safety measures
We've been working hard to put extra safety measures in place to keep you safe and have created FAQs to help answer the key questions you may have.
You can find out more about the extra safety measures we have introduced and what to expect next time you visit us by taking a look at our COVID-19 safety charter and short video.
For everyone's safety may we ask that you do not visit us in-person without a prearranged appointment.
Keeping you safe when you visit us
Let's face it, not many people look forward to going to the dentist and that's without the extra complexity of COVID-19. So we completely understand you may be more nervous about visiting the dentist than normal.
The truth is, your visit will be different. Our dentists, hygienists and nurses will be wearing more safety clothing and face wear, and our reception teams will be behind screens and wearing masks too.
We'll also ask you to use hand sanitiser and wear a face mask while in practice (these will be provided), but it's only for everyone's protection. We're still the same friendly people you know and we'll continue to put your needs and safety first.
You can find out more about the extra safety measures and what to expect when you visit us in practice, in this short video.
If you require any further information, or clarification, or you would simply like to speak to a member of the team, please phone the practice on 01242 655554 or use the 'Request Call Back' facility at the top of every page on our website. If we are unable to answer your call, please leave a message and we will call you back as soon as possible.
Dental emergencies
If you have a dental emergency (See below) during our usual hours of opening (see bottom of page) please call us on 01242 655554. If out of hours please call 01242 655554 and follow instructions on our recorded message.
For the latest Coronavirus information from Bupa Dental Care please go to www.bupa.co.uk
We really appreciate your patience during this difficult time and on behalf of everyone here at Arnica Dental Care we hope you continue to remain safe and in good spirits.
What constitutes a medical emergency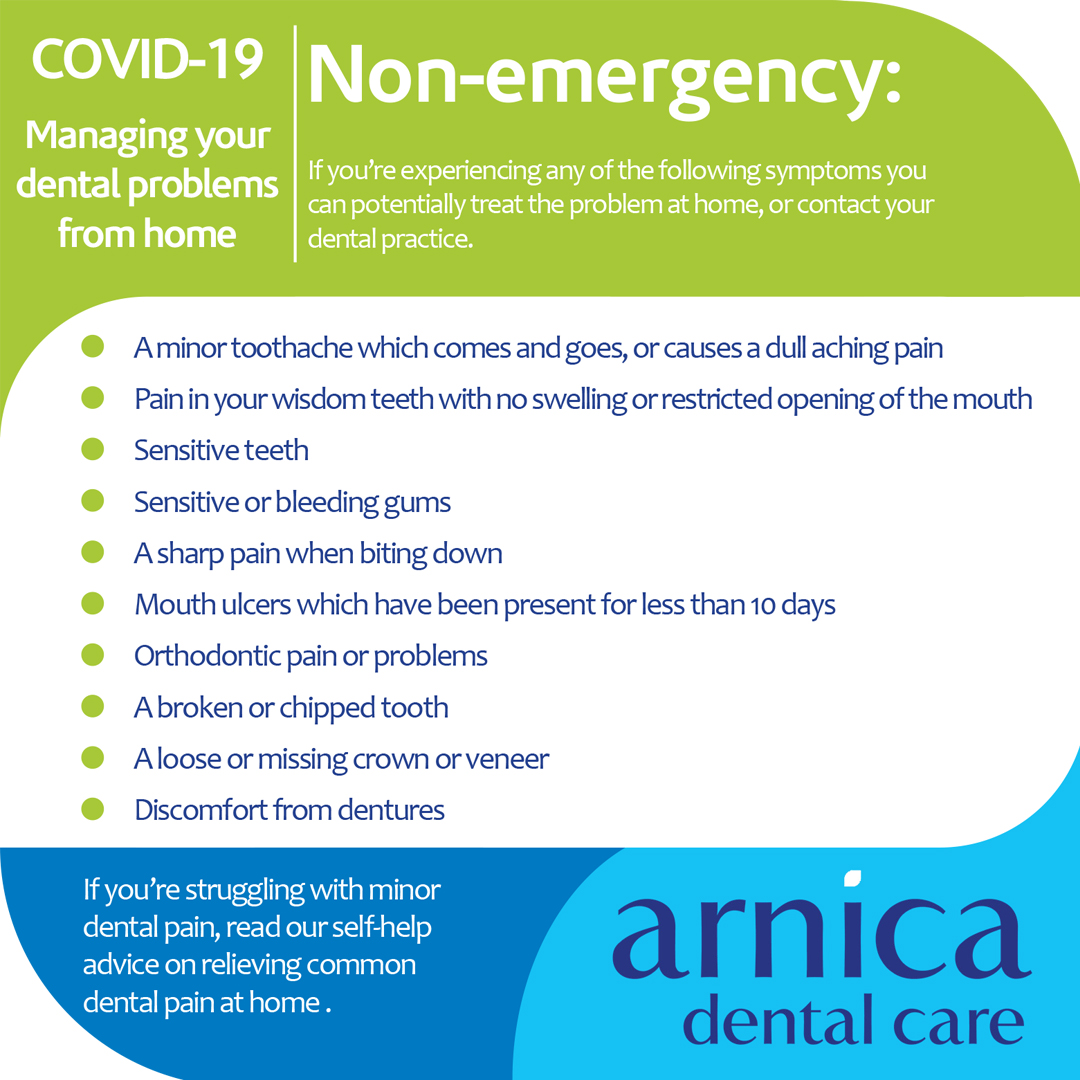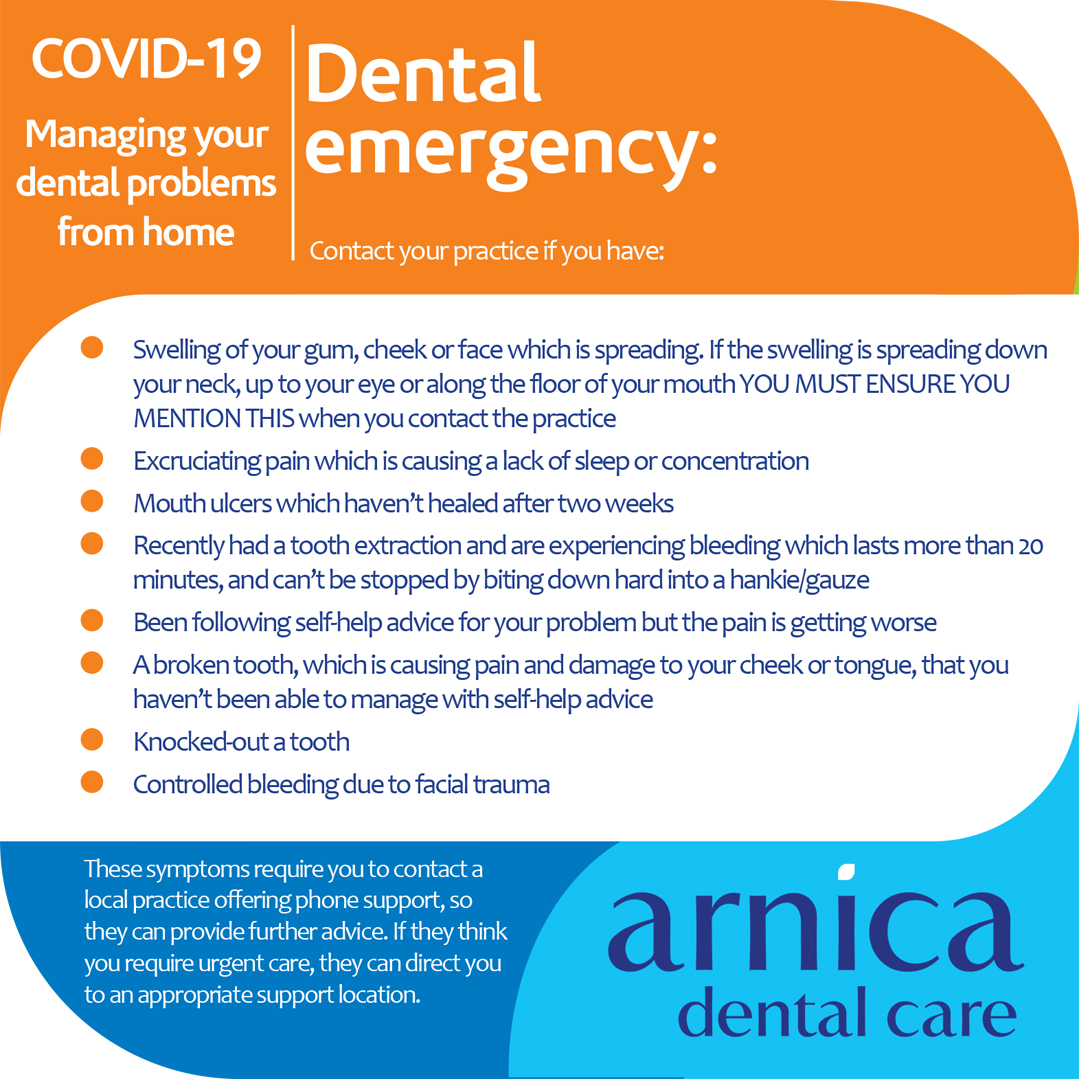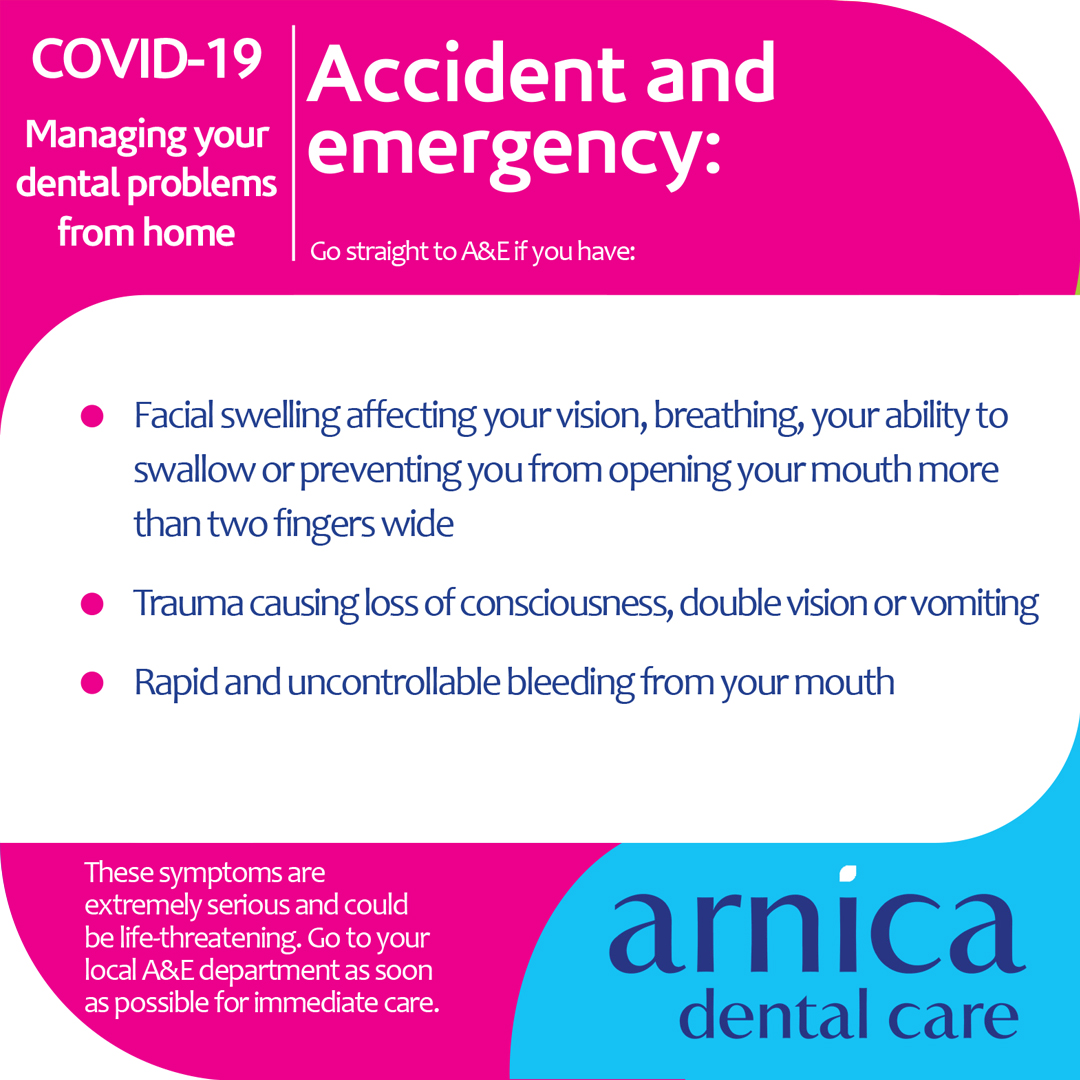 Non-emergency
If you're experiencing any of the following symptoms you can potentially treat the problem at home, or contact your dental practice:
A minor toothache which comes and goes, or causes a dull aching pain
Pain in your wisdom teeth with no swelling or restricted opening of the mouth
Sensitive teeth
Sensitive or bleeding gums
A sharp pain when biting down
Mouth ulcers which have been present for less than 10 days
Orthodontic pain or problems
A broken or chipped tooth
A loose or missing crown or veneer
Discomfort from dentures
If you're struggling with minor dental pain, read our self-help advice on ​relieving common dental pain at home​.
Dental emergency
Contact your practice if you have:
Swelling of your gum, cheek or face which is spreading. If the swelling is spreading down your neck, up to your eye or along the floor of your mouth  YOU MUST ENSURE YOU MENTION THIS when you contact the practice
Excruciating pain which is causing a lack of sleep or concentration
Mouth ulcers which haven't healed after two weeks
Recently had a tooth extraction and are experiencing bleeding which lasts more than 20 minutes, and can't be stopped by biting down hard into a hankie/gauze
Been following self-help advice for your problem but the pain is getting worse
A broken tooth, which is causing pain and damage to your cheek or tongue, that you haven't been able to manage with self-help advice
Knocked-out a tooth
Controlled bleeding due to facial trauma
These symptoms require you to contact a local practice offering phone support, so they can provide further advice. If they think you require urgent care, they can direct you to an appropriate support location. ​Find your local Bupa Dental Care practice​.
Accident and emergency
Go straight to A&E if you have:
Facial swelling affecting your vision, breathing, affecting your ability to swallow or preventing you from opening your mouth more than two fingers wide
Trauma causing loss of consciousness, double vision or vomiting
Rapid and uncontrollable bleeding from your mouth
These symptoms are extremely serious and could be life-threatening. Go to your local A&E department as soon as possible for immediate care.